I just wanted to say Hi. to everyone. I'm brand new to the forums and dont have a clue what I'm doing hunting predators.
I will also preface this by saying, I passed typing class in High School by faking a broken finger from Football so I got a D, rather than taking the final and failing the class all together. This means I know I suck at it and spelling as well.(Insert Beer smiley faces i have seen, but also dont know how to do)
I just wanted to share what i thought was an interesting build with everyone.
I also have some pics but no Idea how to upload them. If anyone can drop that knowledge on me i would be much appreciated. I am not a photographer so it is not the best anyway, sorry.
For this build I used a DPMS Lr-308 A3 upper and Lower. I used a DPMS BCG. The Gas system is DPMS and is rifle length. The lower and Upper parts kits were also DPMS.
I put a Bill Springfield worked over DPMS trigger in. It is crisp and breaks at 3 lbs. This trigger is rediculous for the price and he was awesome to deal with I highly recomend him.
The pistol grip is a Magpul MIAD Modular grip, because i like the different core insert options.
The stock is a Magpul PRS.
The barrel is a 22" Stainless steel 1:8 RHT twist bull Barrel from Phil Harris at Harris Gunworks. Phil was absolutely fantastic. I say bull barrel because im not sure how else to describe it, it is 1.2" behind the gas block and Heavy. It also has a custom made muzzel break/compensator on it, again made by Phil.
I used a JP Enterprise Modular Handgurd Sysytem for the front end. I put a full length rail on the top and a 4" rail at 9.
The magazine is a 20 rd Magpul PMAG. I got this because its cheaper than a 10rd DPMS mag. I will pick up some smaller mags in the future.
I am using a Harris H series bipod 13"-23".
The scope in the Picture is a Pulsar Digisight N550. Im not sure if it will stay on the rifle as I am considering going 22-250 for a day rifle and 204 for my night hunting setup.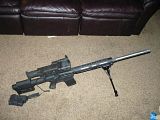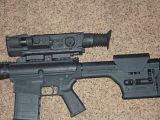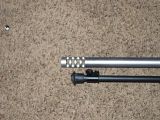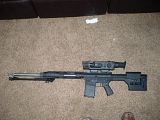 Thats pretty much my build if you have any questions feel free to ask
Chris
Yes my day job is Environmental, Safety, and Health